Scenes from an NBA showdown
Sunday's Phoenix-at-Dallas date was one of the most anticipated games of this regular season. That was especially true for yours truly ... as explained in this look back
I had the pleasure Sunday of occupying a prime press-row seat in Dallas for one of the most absorbing regular-season games you could wish to see.
Kevin Durant and Devin Booker combined for 73 points in their third game together. Luka Dončić and Booker wound up going nose-to-nose in the final seconds in a clash of genuine animus after Dončić inexplicably missed a potential game-tying layup. The Suns' 130-126 triumph added another compelling chapter to what feels more and more like a much-needed NBA rivalry with staying power.
The foremost pleasure of the afternoon, though, was a fatherhood thing. Regular readers are well-acquainted with my oft-cited lament about my (severe) limitations as a photojournalist. So I brought my son Aaron along to help me with that, since he is a passionate photographer learning the craft as a high school sophomore.
Snapping away mostly from the top of the lower bowl as my credentialed companion, Aaron came away with several images to work into my coverage until nearby fans increasingly refused to leave their feet for much of crunch time. Having noticed that my Portland-based fellow Substacker John Canzano has been known to publish the occasional Photo Gallery piece, I decided to sample that genre on this Newsletter Tuesday.
In addition to the flurry of images below, Aaron helps me add some context now to one of Sunday's more compelling storylines with these next two shots. They provide an illustrative layer to the great lengths Durant and former Nets teammate Kyrie Irving seemingly went to in avoiding each other before, during and after the nationally televised showdown.
In the pregame shot on the left, Durant and another former Nets teammate — Markieff Morris — shared a warm embrace at midcourt. After the game, Durant and Morris hugged again on the American Airlines Center floor right before Durant's postgame interview with ABC.
Anyone awaiting similar reunion scenes for Durant and Irving — or merely some semblance of a public reunion — came away disappointed. The photo on the right featuring their brief intersection on some free throws was essentially as close as Durant and Irving got to each other.
It was barely a month ago, of course, that Irving rocked the Nets with a Feb. 3 demand to be traded few saw coming. Durant soon followed with his own private plea to be sent to Phoenix after Brooklyn struck a deal to ship Irving to Dallas within 48 hours, bringing a sudden end to the KD/Kyrie partnership after three-plus seasons together.
Sunday's chilly thriller marked the last regular-season meeting for the Suns and Mavericks, who split the season series 2-2 after their memorable seven-game series in last spring's second round of the playoffs that was capped by Dallas' runaway 33-point Game 7 victory in Phoenix. No one can promise that a playoff rematch is forthcoming, but you'd struggle to find two teams more compelling to catch in March after their respective blockbuster trades to import Durant and Irving to the Western Conference.
And given how these teams clearly feel about each other.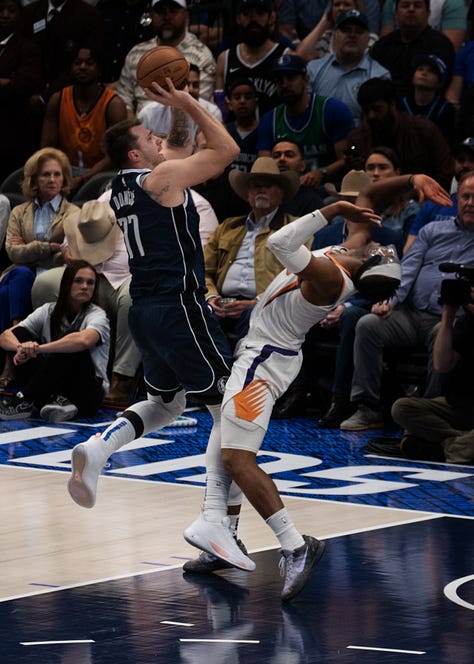 ---
The Stein Line

 is a reader-supported newsletter, with both free and paid subscriptions available, and those who opt for the paid edition are taking an active role in the reporting by providing vital assistance to bolster my independent coverage of the league. Feel free to forward this post to family and friends interested in the NBA and please consider becoming a paid subscriber to have full access to all of my posts.

As a reminder: Tuesday editions, on this and every Newsletter Tuesday, go out 

free

 to anyone who signs up, just as my Tuesday pieces did in their New York Times incarnation.
---
Creed III
Review
An opening weekend take of $100 million globally. No. 1 film opening ever for the Creed franchise. Richest film opening for any sports movie for that matter.
Creed III is doing very, very well despite what you're about to read here.
I'm not going to go too in-depth with my notes and thoughts because the movie has been out for only a few days. So it's too soon for me to start dropping spoilers. But I naturally have some strong opinions as a lifelong devotee of the Rocky/Creed franchise that is now up to nine installments.
I indeed made time last Friday to contribute to the film's immediate windfall, catching an afternoon showing of Creed III on Day 1 in a near-empty theatre, which is just how I like it. Adhering to the tenets of eternal candor on this Substack, I can't help but pass along that — even as someone who believes there really are some redeeming elements to Rocky V because I love these characters so much — this is the first time I feel like they've gone one round too far. I simply struggled to buy much of what struck me as a microwaved story and found the plot just too convenient.
That said …
I fully expected the film to do well and readily acknowledge that my take is bound to be received as a generational one. In Creed III, as he recently told my Sports Illustrated pal Chris Mannix, Michael B. Jordan wanted the film to lean "into the hero of the franchise" with a tale that belongs completely to Adonis Creed. Jordan certainly succeeded there.
Yet that means that Stallone's Rocky Balboa essentially has no role in this installment, which I suspect is going to be hard to stomach for anyone like me who grew up on the various Rocky films.
Here, by way of review, is a detailed breakdown of my devotion to the Rocky (and then Creed) series since 1982's Rocky III served as the first movie I ever watched at the cinema without parental supervision:
I was literally on-my-knees grateful for the first Creed and how it breathed unforeseen new life into a cherished movie franchise I have been known to treat as real life. I loved Creed II just as much (maybe more) because it so seamlessly resurrected Ivan Drago and his ice maiden wife Ludmilla (as unforgettably portrayed by Brigitte Nielsen) alongside his menacing son Viktor Drago, bringing back all the emotion that 1985's Rocky IV still stirs within me with a compelling new plot. In that way, Creed II is much like Cobra Kai, whose writers have artfully crafted a string of compelling modern chapters for the Karate Kid trilogy.
In Creed III, it all just happens way too fast for me. Whether it's Diamond Dame Anderson's emergence as champion so soon after coming back into Adonis Creed's life after nearly two decades in prison, or Creed's swift return to glory, both fights pop up without warning. There is no layer of riveting struggles that Adonis Creed had to confront between his first and second fights with Viktor Drago.
Yet I repeat: I readily anticipate that the 25-and-under set will be prone to dismiss my synopsis as an old man's take. I could quickly tell, even before the big box office numbers began to circulate, that the rampant social media praise for Jonathan Majors' portrayal of Diamond Dame suggests younger fans are loving the lure of the Creed franchise's own boxing goodness. They don't necessarily need more Stallone or crave flashbacks to Apollo Creed.
Me? I can't help it. Apollo Creed, as masterfully incarnated by Carl Weathers, is my favorite movie character of all time. A Creed sequel that barely acknowledges him or Rocky Balboa, for this hopeless Rocky romantic, is always going to be problematic — no matter much I enjoy Wood Harris' ongoing excellence as Adonis Creed's trainer Tony "Little Duke" Evers ... or the adorable Mila Davis-Kent as Adonis' daughter Amara ... or the jaw-dropping sight of our guy Mannix as a boxing announcer in an actual major motion picture.
Also: I have to admit one more truth.
It's a certainty that whenever Creed IV debuts, irrespective of my disappointment this time, I'll be there in a near-empty theatre on Day 1 for another afternoon screening, desperate to be treated to even the slightest connection to Rocky or Apollo or anyone from the first six films.
As I wrote in November 2021 in the piece cited above when I reviewed Stallone's reworked director's cut edition of Rocky IV:
The Rocky franchise, you see, meant as much to me as anything in my teen life. It still holds remarkable sway nearly 40 years later, thanks mostly to my brain's ultra-nostalgic wiring but also due to a staying power these movies and these characters possess that surely stretches beyond anything Sylvester Stallone ever intended.
---
Numbers Game
🏀
24
The NHL trade deadline finally passed last Friday — 24 days after the NBA trade deadline. I've never understood why hockey's trade deadline is almost a month later than pro basketball's when the NHL season starts almost two weeks earlier.
🏀
173
The 2022-23 NBA season is 173 days long, running from Oct. 18, 2022, through April 9. The 2022-23 NHL season spans 189 days from Oct. 7, 2022, through April 14.
🏀
70
The last regular-season MVP to play less than 70 games in an 82-game season was Portland's Bill Walton (58 games) in 1977-78.
🏀
25-0
I will write an entire piece on MVP voting soon enough, but in the interim I can simply reiterate that MVP, to me, has always been a Best Season award. And that's why Denver's Nikola Jokić, on this scorecard, leads this season's race entering the final month before the playoffs. Consider everything listed in the tweet below on top of Denver's runaway lead in the Western Conference. That is what many old-school voters like myself are looking at. The results of the last two MVP races, using this approach, are immaterial.
🏀
8
Jokić had eight triple-doubles in February — two more than all other players combined according to fellow Substacker Justin Kubatko.
🏀
96.3
Another gem from Kubatko's recent roundup of February superlatives: Portland's Damian Lillard shot 96.3% from the free-throw line last month to record the highest such figure in league history for a player who averaged at least 30.0 points per game for that month.
🏀
52
In the three tweets enclosed, The Associated Press' Tim Reynolds lists the 52 players who helped USA Basketball secure a spot in this summer's FIBA World Cup in Indonesia, Japan and The Philippines. Starting with the 2019 World Cup, remember, FIBA reverted to soccer-style qualifying for major tournaments and qualifying games that are mostly played during the NBA season, forcing national federations like USAB to turn to players outside of the NBA to get through the qualifiers that enable various countries' top players to participate in the main competitions.
🏀
39
The NBA playoffs start in 39 days — with only 35 days to go until the play-in round featuring teams seeded No. 7-10 in each conference. 
The Stein Line is a reader-supported publication. To receive new posts and support my work, please consider becoming a free or paid subscriber.